By: Otaiba Ahsan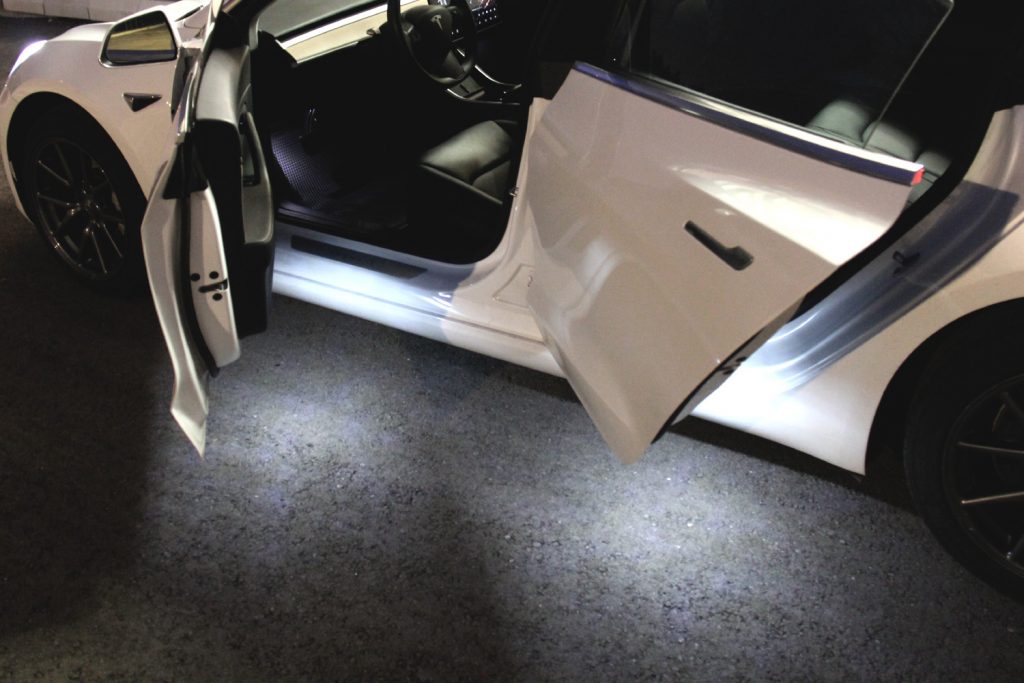 Tesla states that if the windows in your vehicle are not working properly, then you should perform a calibration. Lucky for you, we've already created a guide on how to calibrate the windows. However, if after calibration they're still giving you trouble, then the next thing you should do before contacting Tesla is to inspect the puddle lights. Continue for steps on how to inspect the puddle lights on a Tesla Model 3 or Model Y.
Inspecting the Puddle Lights
A puddle light is located under each door frame, see Tesla's visual to get an idea of what to look for. If a puddle light is not illuminated, there may be an electrical issue that's affecting the windows. In this scenario, schedule a service appointment through the Tesla Mobile app to correct the error.
However, if the light is illuminated, follow these steps:
1) Locate the tab on one side of the puddle light fixture and use a plastic pry tool or flathead screwdriver to pry off the light from the door frame. See the visual from Tesla for an exact view of what to do.
2) Next, gently pull the puddle light down to view its connection to the wiring harness. If the wire is securely connected to the light, unplug it by pressing the tab on the connector and slide the light fixture away from the harness. The harness may have become loose or slightly disconnected, so unplugging and re-plugging may help. Once again, see Tesla's visual for reference.
3) Now, reconnect the light to the wiring harness and reinstall the puddle light fixture. When the power is correctly restored, the window will drop down slightly.
4) Lastly, gently try to close the door and ensure the window is slightly lowered before doing so. You'll want to make sure it raises automatically once it's closed. If this doesn't work, there may be an issue with the puddle light itself, which it's probably best to contact Tesla Service for.
NOTE: See our guide on how to contact Tesla Roadside Assistance which also goes over where to communicate with them in the mobile app, in case you need to schedule an appointment.
There you have it! To summarize, if your windows are giving you trouble, calibrate them first. If that doesn't work, examine the puddle lights. If the light isn't functioning at all, contact Tesla Support, otherwise follow the steps above.
The Bottom Line
The steps on how to inspect the puddle lights on a Tesla Model 3 and Model Y are straightforward. First, locate the tab and use a pry tool or flathead screwdriver to take the light off from the door frame. Next, unplug and re-plug the wiring, then reconnect and reinstall the fixture altogether. Lastly, gently open and close the door to make sure it automatically goes up and down.