By: Otaiba Ahsan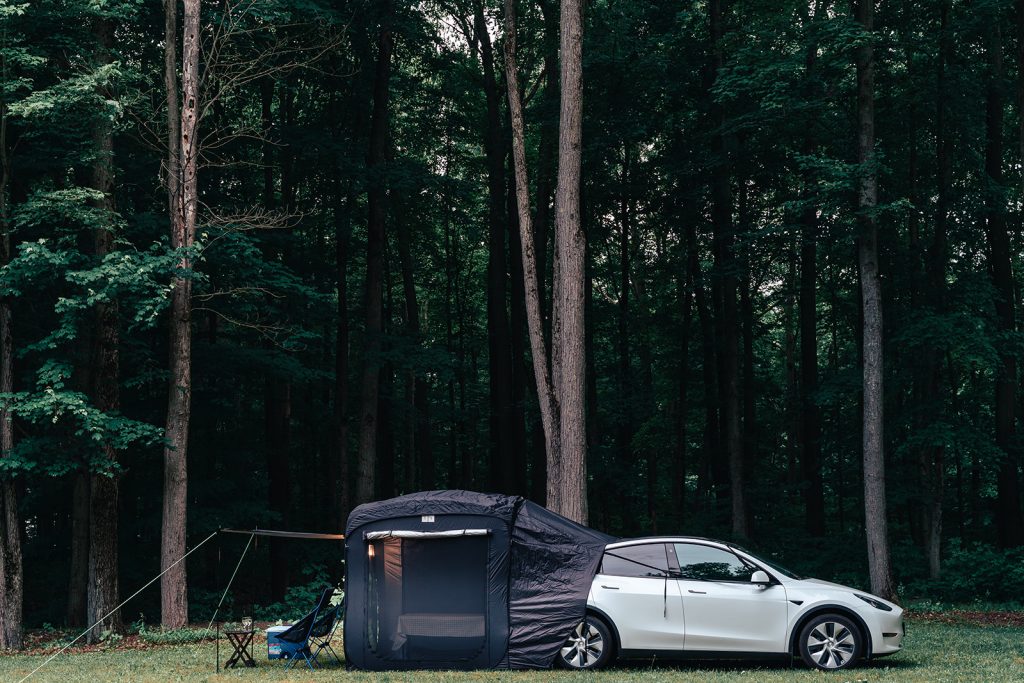 From traditional tents tethered to the ground, to your car, camping can be accomplished in several ways. When most people see a Tesla, they don't picture it as an ideal car for outdoor adventure. However, the electric vehicle (EV) titan has added reliable features to make any camping experience comfortable. Continue for steps on how to put your Tesla Model 3 and Model Y in Camp Mode.
What is Camp Mode?
When in your Tesla, you can engage Camp Mode. This feature is ideal for remaining inside your vehicle, such as when camping or staying with a child. What exactly are the benefits of Camp Mode?
While active, it allows you to power electronics through the USB ports and low-voltage outlet, and also maintains the cabin temperature. Moreover, the touchscreen remains on so you can play music, browse the internet, play games in the arcade, or use streaming apps like Netflix or Disney Plus. Lastly, you can control media and climate settings from any paired phone.
NOTE: When engaged, Sentry Mode, vehicle alarm, and the Walk-Away Door Lock capabilities are all disabled.
The steps to put your Tesla Model 3 and Model Y in Camp Mode are simple:
Ensure your battery's charge is at least 20% and the vehicle is in Park.
Open the climate control settings and touch the Camp button on the right side of the screen.
Adjust the temperature to your liking, sit back and relax in your car.
Must-Have Tesla Camping Accessories
When planning a camping trip in your Tesla Model 3 or Y, there are several accessories that can make your experience much easier and enjoyable. Here are some of our favorites!
1. Rooftop Cargo Box: Tesloid offers a Rooftop Cargo Box for both the Model 3 and Model Y. The box has a stylish and aerodynamic design which greatly compliments the exterior of each vehicle. There's a large cargo capacity in both, measuring 67 inches in length, 33 inches in width, and 15 inches in height. The Rooftop Cargo Box is perfect for storing luggage, sports equipment, or camping gear! This will free up interior space, allowing for a comfortable ride.
NOTE: To use the Cargo Box, you'll need a Roof Rack. Lucky for you, we offer a fantastic one for both the Model 3 and Model Y!
2. Camping Tent (Model Y Only): The Model Y Camping Tent from Tesloid is a must-have if you're planning an outdoor adventure in your car. It's custom and tailored to fit the dimensions of your Model Y's tail space, so you can easily dock your car and have a nice shelter from the outside environment. With almost 7-foot ceilings and nearly 50 square feet of indoor living space, there's plenty of room to work with.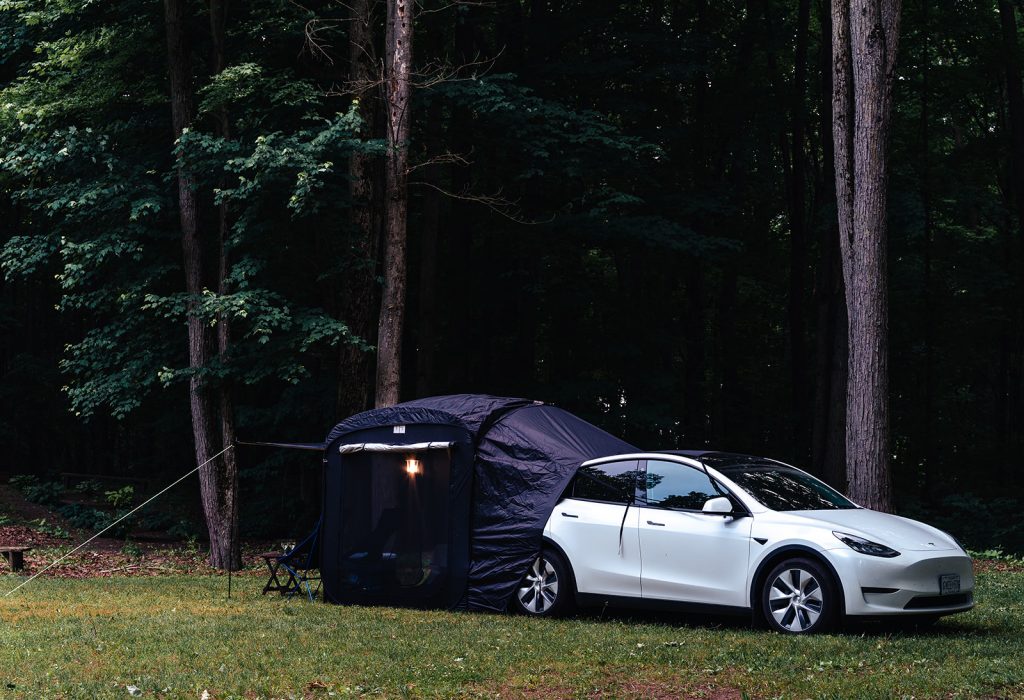 3. Inflatable Mattress (Model Y Only): A perfect pairing with the Camping Tent, the Model Y Inflatable Mattress from Tesloid will provide peak comfort for your trip. Whether it's a quick stop, or you're spending the night, you can instantly transform your Model Y's cargo area into a cozy sleeping space. The mattress is tailored to fit the exact specifications of the vehicle and comes with a 12V electric pump to inflate in less than 5 minutes.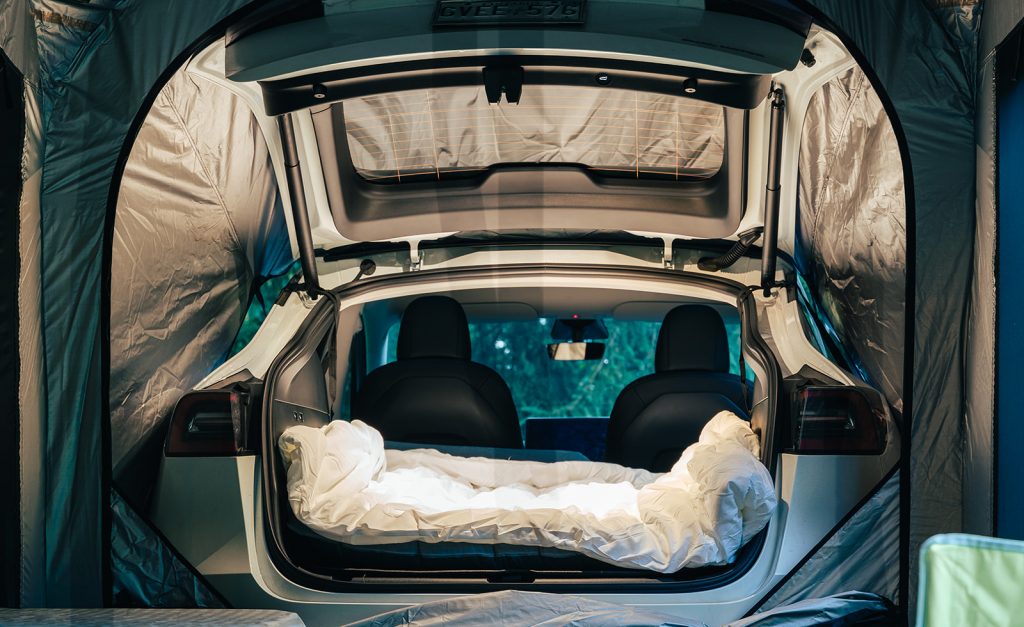 The Bottom Line
The steps on how to put your Tesla Model 3 and Model Y in Camp Mode are easy. Ensure your vehicle has more than 20% charge and is in Park, then open the climate settings and tap the Camp icon on the right of the screen. Adjust the temperature to your liking, then sit back and relax!