By: Otaiba Ahsan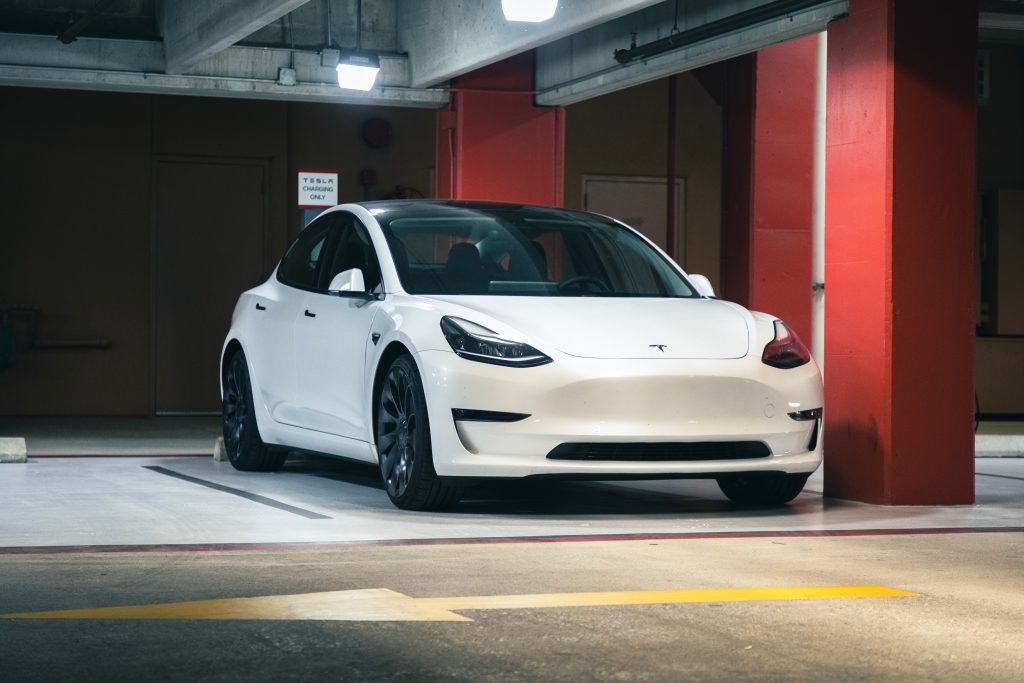 One thing about fully electric cars that takes some getting used to is the complete lack of an engine. There are also far fewer moving parts which helps clear up even more space where the engine normally sits. This begs the question, what have automakers done with the excess area? Many have added a front trunk, also known as a frunk amongst the Tesla community. How big is the frunk on a Tesla Model 3? Continue reading for details on its size, and some of the best ways to take advantage of this added storage.
How to Open the Frunk
To open the frunk of your Model 3, ensure your Tesla is in park and then do one of the following before pulling the hood open:
1. Tap the Open icon on the touchscreen in your car
2. Open the Tesla app > Tap "Controls" > Hit "Open" where your front trunk is
3. If you own a key fob, double-click the front trunk button
Once you're done using your frunk, you'll need to close it. Unlike most gas vehicles, the hood for any Tesla is not heavy enough to latch under its own weight so you'll have to close it manually. If too much pressure is applied on the front edge or centre of the hood, it can cause damage. To correctly close the hood, follow these steps:
1. Gently lower the hood until the striker touches the latches. In other words, bring your hood down and drop it softly, you'll see that it's still slightly open.
2. Place your hands slightly above and on both sides of the Tesla logo, and firmly press down to engage the latches. You'll hear a click which means the hood is now closed.
Tesla has a useful visual on exactly where you'll want to press down.
3. Double-check if your frunk is closed by trying to lift the front edge of the hood.
NOTE: If there's ever a situation where a person is locked inside your frunk (we certainly hope not), there's an Interior Emergency Release button that illuminates from the inside. Press the button and push the hood up to open it from the inside.
How Big is the Frunk?
The front trunk in the Model 3 is 3.1 cubic feet or 88 L. This is a solid amount of excess space that Tesla owners benefit from. It's a perk I didn't really think of too much when purchasing my Model 3 but has been a pleasant surprise and quite handy during my ownership.
NOTE: It's important to distribute the weight of the cargo as evenly as possible in the front and rear trunks of your Tesla. The frunk should never carry more than 110 lbs or 50 kg, as doing so can cause damage to the vehicle.
Best Ways to Use the Frunk
There are several ways to use the frunk in your Tesla Model 3. Here's a rapid-fire list:
1. Food Storage: If you've ever grabbed takeout, it's likely been stored in the backseat and your car was consumed with a food smell for the next few hours. Putting your food in the frunk is a great solution to avoid this scenario. It can surprisingly fit a lot of items, and if something ends up leaking or spilling it's easy to clean.
TIP: If you're looking to store food efficiently, then Tesloid's Model 3 Frunk Cooler Food Bag is an excellent option. It'll help keep the food fresh for hours and is perfect for road trips.
It's split into two sides, with the left being thermally insulated for hot or cold perishable food and drinks, and the right being a "pantry side" for everything else. This bag can fit a lot and is a must if you're going for long drives and need to store food.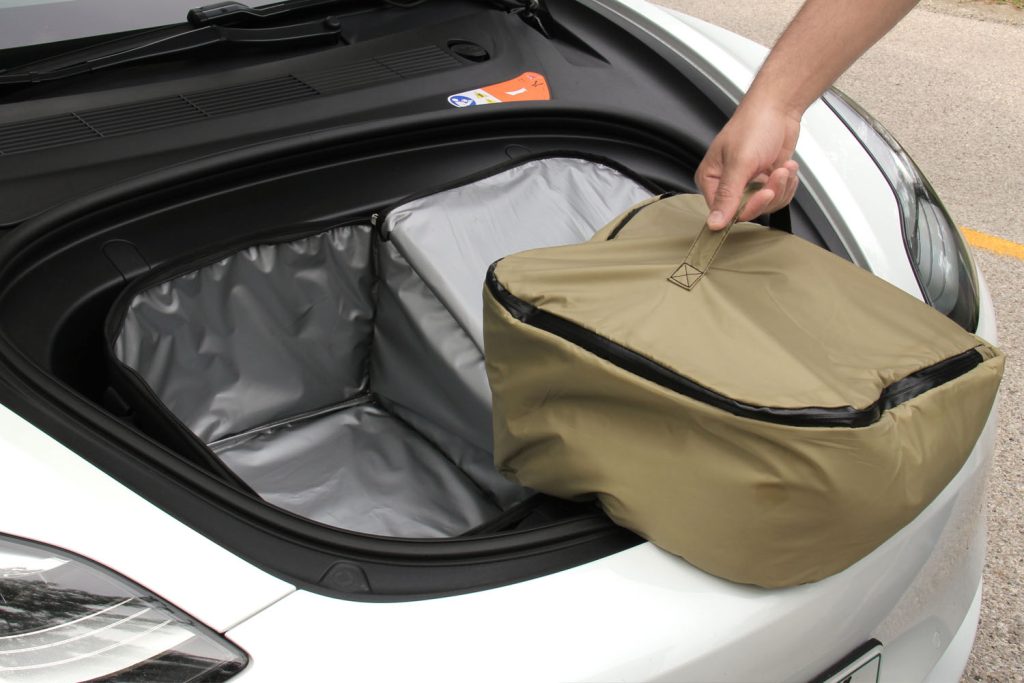 2. Luggage: In most instances, the front trunk of your Model 3 should be able to fit a carry-on-sized suitcase. When picking up and dropping someone off at the airport, it's great to be able to clear up space in the trunk for bigger luggage by throwing a carry-on in the frunk.
3. Sports Gear: There are two things that can be annoying when lugging around the gear you need for sports. The first is that it can stink up your car on the drive home after you've played, and the second is that they take up precious space.
That's where the frunk can come in handy. Personally, after I'm done playing basketball, I always throw my shoes and backpack that carries my ball and clothes all in the front trunk. They fit nicely and I don't have to worry about dirtying my back seat or my car smelling.
4. Groceries: Whether it's a small or large grocery trip, having some extra space never hurts. You'll be able to fit a good number of groceries in the frunk, which will help clear up room in the trunk for whatever you need.
TIP: If you're bringing groceries to your car without a bag, the frunk is a great place to store some of the messier items. For example, onion bags are always dropping little pieces. If they fall in the frunk, it'll be easy to clean, and more importantly, you've kept your trunk and interior neat.
5. Emergency Gear: Some Tesla owners like to store emergency supplies in their frunk and leave it there at all times. This includes items such as a blanket, flashlight, first-aid kit, rope and more. While these items can be stored anywhere in the car, it's nice to have them all in one place for easy access.
The Bottom Line
How big is the frunk on a Tesla Model 3? It's 3.1 cubic feet or 88 L. This added space is something owners might not think about, but really appreciate once they start using it. Whether it's for storing food, luggage or groceries, having this extra cargo room is a big advantage for Tesla owners!