By: Otaiba Ahsan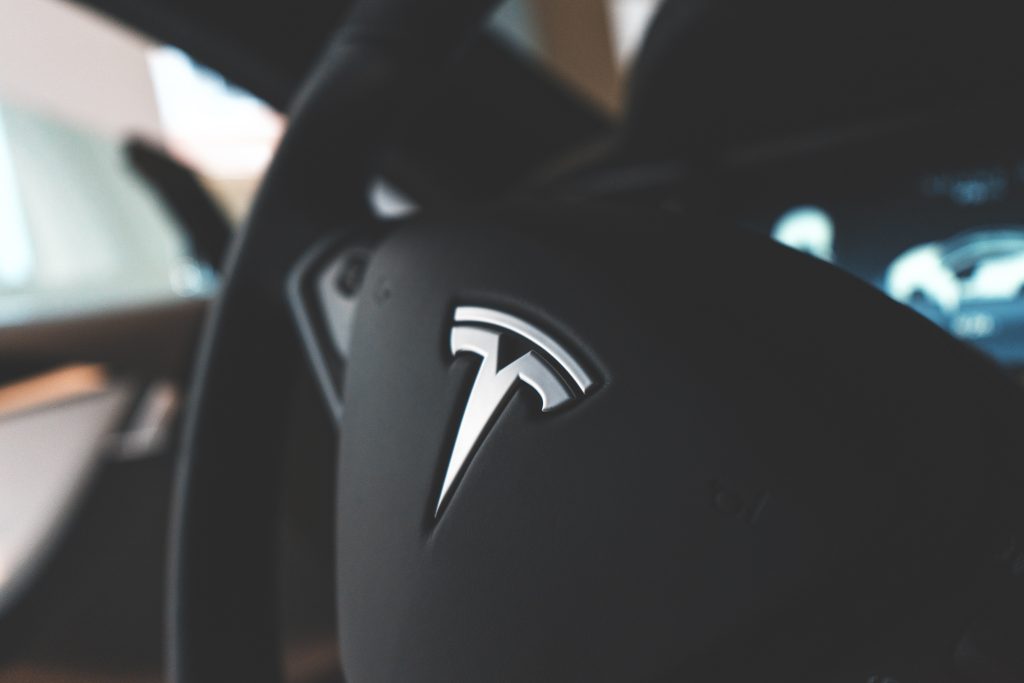 Tesla likes to keep their ownership experience as fun and lighthearted as possible. One of these silly, but enjoyable features is having the ability to change horn sounds. Every now and then, you might stumble upon a viral video of someone who has configured their horn to play a trending sound. There are always questions and comments about how it was accomplished, but the steps are never explained. Want to get in on this fun? Continue for steps on how to change the horn sounds on a Tesla Model 3 or Model Y.
Tesla Toybox
In your Model 3 and Model Y, you can tap into a view called Toybox. There's a lot of fun to explore in this view, here are a few of the several options:
Boombox: So long as your Model 3 and Y are equipped with a Pedestrian Warning System, you can play a variety of sounds using the external speaker in the vehicle. This feature can only be used when the car is in Park. A common use of Boombox is when hanging outside with friends and family, especially at cottages and campsites. Make sure to check local laws before using the Boombox feature in public areas.
Sketchpad: Need to quickly visualize something? You can open a sketchpad and draw whatever you'd like from the Toybox view. This can be a simple cartoon, or a chart to help with future planning. Sometimes, drawing something out is simply easier than writing. At the end, you can tap Publish to submit your work to Tesla for critiquing.
Rainbow Road: Paying homage to the ultra-popular game series, Mario Kart, Tesla has introduced the Rainbow Road feature. When enabled, you'll see the famous road pattern change when Autopilot and Autosteer are engaged.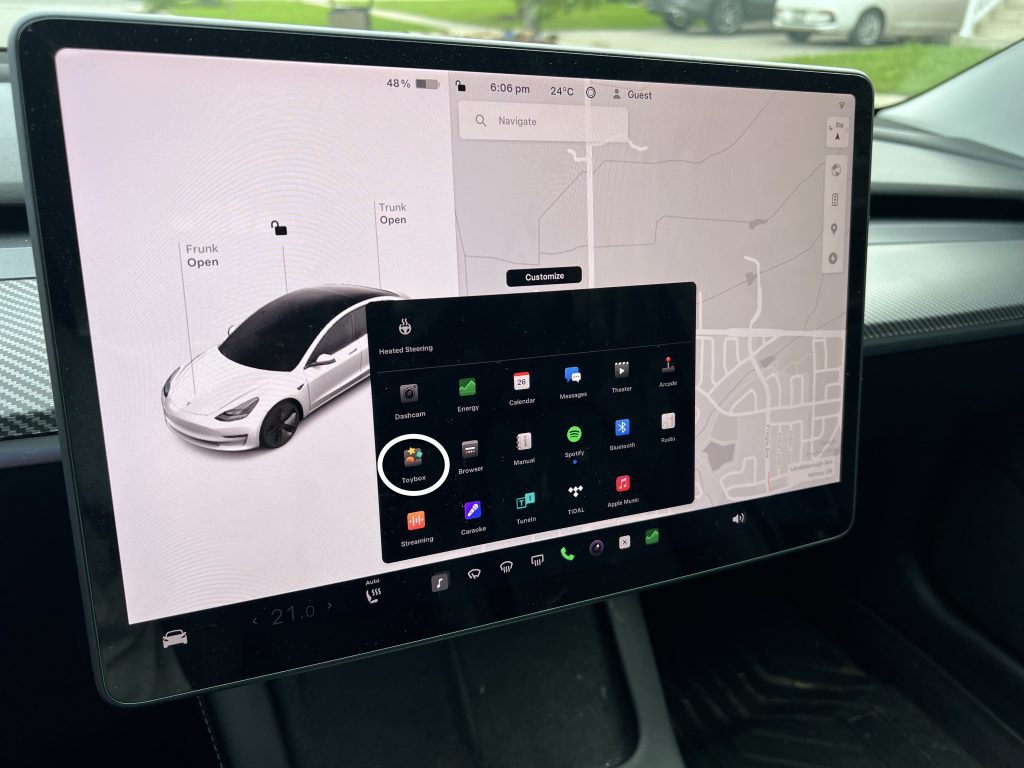 NOTE: You should only access the Tesla Toybox when your vehicle is in Park. Using these features when driving is illegal and can be quite dangerous, leading to collisions that can harm yourself, your passengers and other motorists.
These are just three out of many options available in the Tesla Toybox catalogue. Tesla has details on each feature in the owner's manual.
Changing the Horn Sound
Changing the horn sound in your Tesla uses the Boombox tool mentioned above. To accomplish this, you must first prepare a USB drive for Boombox sounds using these steps:
On a computer, format a USB drive to exFAT, MS-DOS FAT (for Mac), ext3, or ext4 (NTFS is currently not supported). You can find numerous guides on how to do this with a simple Google search.
Create a folder on the drive called Boombox. NOTE that the USB can only contain one folder. For example, you won't be able to have a folder for both Dashcam and Boombox on the same drive.
Add .wav and .mp3 audio files to the folder. You can add as many files as the USB's capacity will allow. However, when choosing a sound in your Tesla, you can only select from the first five, listed alphabetically. File names can contain any combination of alpha characters, numbers, periods, dashes, and underscores.
Plug the USB drive into the port inside the glove box. We've created a useful guide on where all the USB ports are in a Tesla Model 3 and Model Y.
Once all the steps have been successfully completed, open Boombox and you'll see a dropdown which allows you to select one of the five options you uploaded to the folder. Next, press your horn and the first five seconds of the sound will play outside instead of the traditional horn noise.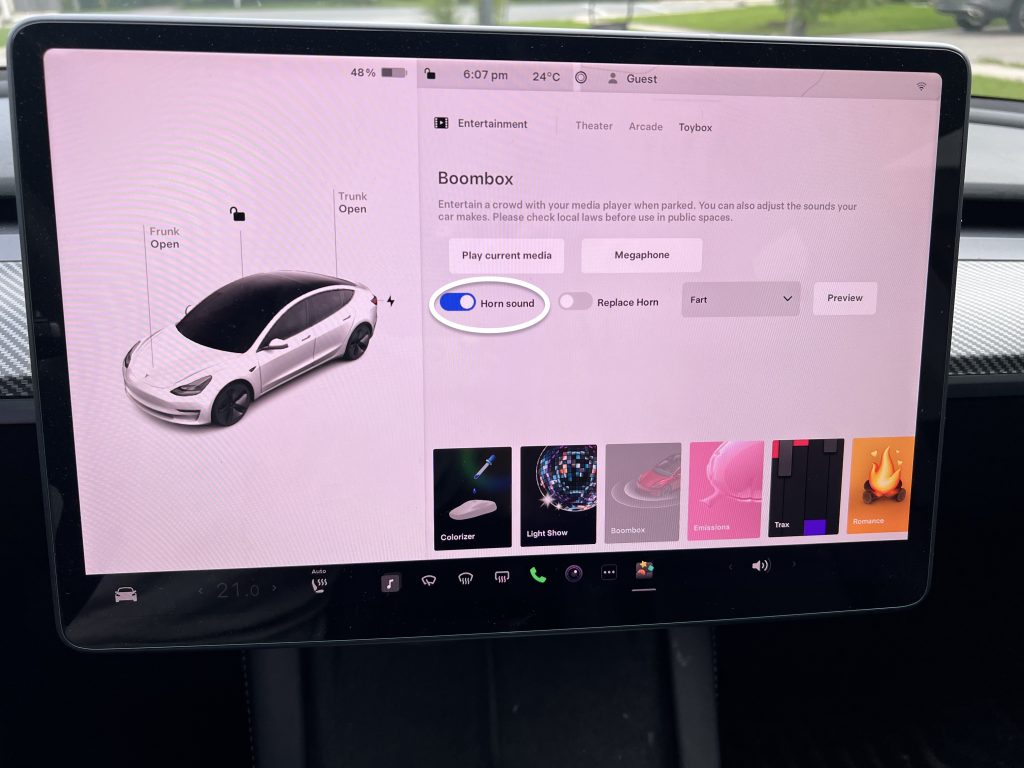 The Bottom Line
The steps on how to change the horn sounds on a Tesla Model 3 or Model Y are straightforward. First, prepare a USB drive by formatting it to exFAT, MS-DOS Fat, ext3, or ext4. Next, create a folder called Boombox on the drive, and add .wav and .mp3 audio files. Lastly, plug the USB inside the glovebox, open Boombox and select your sound. Once you use the horn, the first five seconds will play.